Weekly Picks Part 3: 5 Video Chat Tools With a Twist
This is the third in a series of posts where we share some of our favorite work tools with you to help improve your day to day work. We are product people, we love building products and we often (probably overly) obsessively keep track of the latest tools being released. We're happy to share our best finds with you. Make sure to check out last week's post about 5 Fitness and Wellness Apps for Home.
---
Video chats are the daily normal now for all of us that are lucky enough to be able to work from home. You're probably familiar with Google Hangouts if your company is already using GSuite (or is it called Meet ...oh, it's actually Hangouts Meet 🤦‍♂️). Or perhaps your company has gotten on the Zoom train, despite the long streak of privacy and security concerns. In this post we explore 5 lesser known alternatives, that might be more suited for your specific needs and more effective collaboration.
Tandem - A Virtual Office For Remote Teams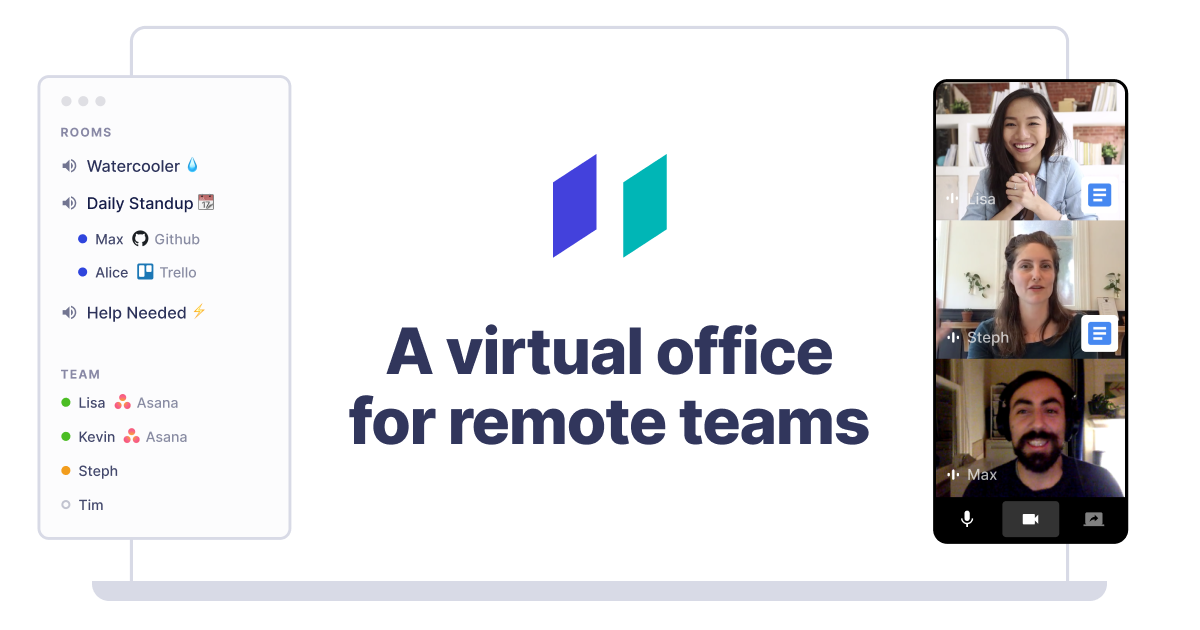 Tandem is an always on kind of tool, floating in a corner of your Desktop, signaling your presence to your team. In the little Tandem app window, you see the various rooms such as "Water Cooler", "Daily Standup" or "Help Needed" and also see what members of your team are online and in what room if any. This is what creates the "virtual office" vibe and makes it the fastest way to connect to your team, tap on the name or a room and you're talking to that person. It's just like walking over to your colleague in a real office. Thing is, "Interruption is not collaboration" and in fact Tandem can feel invasive at times. And so we personally don't use Tandem in the "always on" mode instead opening it when necessary only. Still, starting a video conversation or a screen share takes the least amount of clicks compared to some of the alternatives listed below, which is why we keep coming back to it. Tandem is currently free for the next few months to help with COVID-19, so it's a great chance to give it a go and see if it fits into your workflow.
Slack - Where Work Happens
That's right, Slack is not just about text chat (and gifs). It also has a very convenient video chat and screen share feature built right in. What we like the most here (althought Tandem has a similar experience) is the floating window you can pop out that stays on top of other windows in a corner of your screen, great for when you're collaborating on something, like writing a document. Note that screen sharing is only available in the paid Slack account.
Whereby - Video Meetings, Conferencing and Screen Sharing
We don't always get to try all the tools we highlight - there are just too many cool things getting built. But sometimes a product makes such a strong impression, that we gladly feature it in our top picks before we even had a chance to try it. Whereby has been recommended by many people on Twitter and seems like a solid alternative to Hangouts Meet if you're not on GSuite and an especially great alternative to Zoom. We love it's aesthetic and the approach. Using Whereby? Let us know why you love it at @HumaansHQ.
Around - Next-gen Video Calling
Around has not been released to the public yet, but we just couldn't omit it from this list! We are intrigued by Around, because in addition to creating a quick to connect tool like Tandem, they are also bringing in technology and innovation to enhance the video chat experience above the status quo. First, it's the face framing that crops out all of the background and just zooms into every participant's face creating a focused, and more private experience (and possibly better video quality since a smaller image is getting transferred over the internet). Second, they're using Machine Learning to cut out background noises such as sirens, washing machines, kitchen activity and so on. And last, they allow multiple people in the same room to participate in the same meeting without echoes and screeching feedback. This last feature is interesting for distributed and remote teams especially, where erasing the boundary between "us in the office" and "them remote" makes everyone more equal and included. Make sure to request early access using the form on the site and let us know if you've tried it out already.
Screen - Screen sharing for remote teams
The product just launched, but already seems to have a cult following. "The creators of Screenhero are back" is what they're saying. Screenhero, the company, was bought by Slack, integrated, then removed and finally the product was completely discontinued. And so the original team recreated the experience afresh. The idea behind Screen is to facilitate remote collaboration beyond just video chat. Yes, you still get a floating video chat in the corner of the screen, just like with most other tools in this post. But the emphasis here is on working together. Screen provides shared cursors and on screen drawing. For example, imagine working together on a Trello board where multiple people can type into different cards on your shared screen, or draw arrows/illustrations to highlight something on your shared screen. Read more about the story behind Screen in their announcement post.
---
We've seen a shift in the way we work, and it's not clear how permanent that will be at this point, but we will definitely be seeing more innovation in the remote working space this year. We hope you'll find some of these products useful in addition to or instead of the video chat tools you're currently using. Did we miss some cool tool? Ping us @HumaansHQ.
---
Simplify your people operations with Humaans‌
‌Everything modern HR teams need to onboard, manage and grow their people. Try it free today – create an account in minutes.
Get the next post in your inbox – subscribe now