Leave management that fits your way of working
Administering staff leave has never been easier. Flexible, easy to use and designed with remote teams in mind.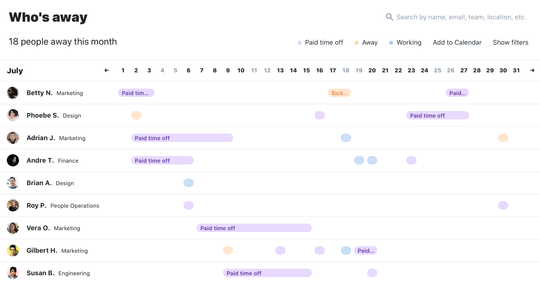 Filter by team or department
Quick and accurate
Total transparency and fully self-service leave management.
Convenient

Register full or half days, see who's away within your team, and check your updated balance instantly.

Time off and working away

Track paid and unpaid leave, working from home, working from another location.

14 leave types supported

Including paid time off, sick days, parental, mental health, WFH, and working from another office.

Custom types

Extend the base types with your own custom types and configure them by location or team.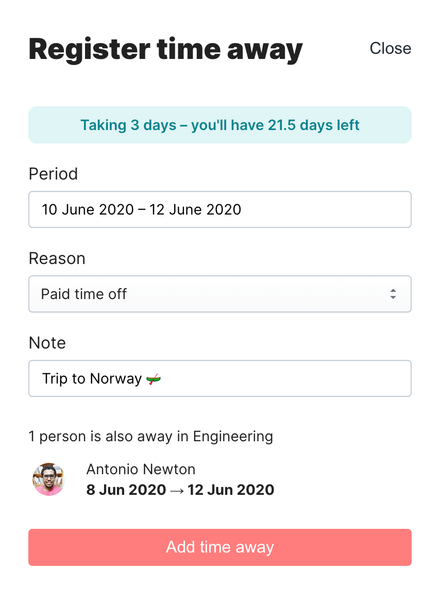 Make sure your team is well rested – we'll deal with the hassle while ensuring compliance.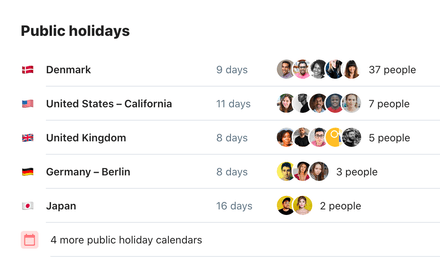 Flexible PTO Policies
For remote, for distributed, for everyone
Fast workflow

Attach policies per office, location or create one off custom ones, make changes without fear and see updates instantly.

Learn more →

Flexible

Configure time off cycle start date, treat weekends or public holidays as working days, allow for unlimited paid leave and carry over days.

Remote first

Designed with distributed and remote teams in mind, including support for 190+ public holiday calendars and growing.

Learn more →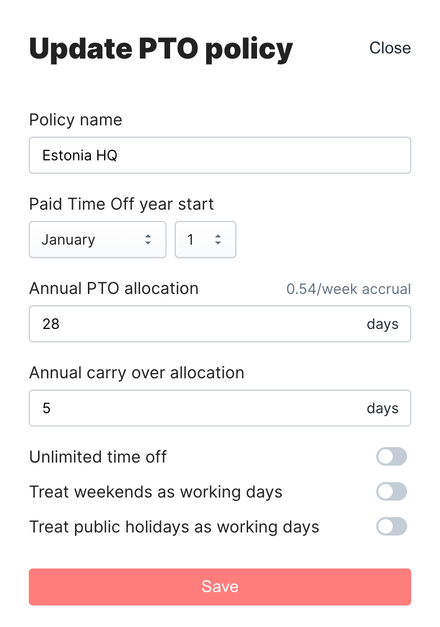 Make the most of your data
Go beyond just keeping records and boost your team productivity.
Slack integration

Keep everyone informed with daily summary of people away, post at any time, to any channel.

Learn more →

Calendar integration

Choose from multiple feeds (company, department, team, reports), and see public holidays of international offices by connecting Humaans with Google Calendar, Apple Calendar or Outlook.

Export data instantly

From Humaans to spreadsheet in seconds. Use it for payroll or to review if enough time off is being taken, roll up over any historical period.

Learn more →