Weekly Picks Part 4: 5 Task Managers That Will Change Your Life
This is the fourth in a series of posts where we share some of our favorite work tools with you to help improve your day to day work. We are product people, we love building products and we often (probably overly) obsessively keep track of the latest tools being released. We're happy to share our best finds with you. Make sure to check out last week's post about 5 Video Chat Tools With a Twist.
---
The project / task / todo managers is a crowded product category. There exist so many options and you might already have your favourites, from the lightweight Trello cards to all encompassing Jira (no? nobody?). And in case you're on the lookout for a better tool, you're in for a treat. This post presents some of my all time favorite software, some battle tested as well as new promising options that should make you and your team more organised and therefore more relaxed and therefore more productive.
Asana 👑
This has been my personal number one trusty tool for almost 10 years now. I have mostly used Asana to track software development projects. But I've also successfully used it to track product roadmaps, marketing campaigns, employee onboarding, bugs and customer support tickets. Asana has a very fast workflow – it's easy to add, remove and move the tasks around. The task details open up in the sidebar, which means you never lose context. The new grid view allows for quick bulk actions. The sections give structure to your lists. At the core - it's a minimal app - add your tasks quickly, order and re-order them as you progress, and tick them off when done - it's really all you need and Asana does it brilliantly.
Things 💙
For personal use and for tracking some of my work related tasks that are not relevant to my team – I have been using Things ever since I discovered it a few years ago. Things is one of the most polished pieces of software I've ever come across, every element, every interaction is swift and delightful. Why use Things for personal use over Asana? Work projects typically have a lot of tasks and last longer periods of time, they also need to be organised more. Tags, assignments and descriptions – all of which Asana provides – are all important for effective collaboration. With personal tasks - you just want it to be quick to add tasks on the go and have a simple overview of things todo today. That's what Things excels at, the mobile app is as polished as the desktop experience and let's you capture tasks in the Inbox quickly. Areas and projects help you keep things organised. And the Today view provides a very valuable focus every day. Unfortunately, Things is available on Apple devices only, but if you're in the Apple ecosystem - Things is definitely worth your attention.
Notion 📐
Notion offers a more holistic approach to project management. I love Notion for documenting internal company knowledge, but a lot of people also use it to run entire projects. The upside of this approach is that you can keep a lot of project related context in a single place. Tasks live along side (or even inside) the same document containing project documentation, notes, images, spreadsheets and more. The other aspect of Notion that people often appreciate is it's flexibility in defining the task management workflows. You can start with a simple list of todos, or you can create fancy lists or boards with arbitrary columns of attributes helping you track the projects the way that suits your needs exactly. I personally find this approach a little brittle and slower. Brittle because there's less consistency within a Notion workspace around where things are at any given point compared to something like Asana which enforces a very useful framework to work within. And slower because when the tool does so much, every interaction is a little more overloaded. Still, Notion has a lot of use cases and if you're looking for a flexible tool, it can be a great choice.
Height 💪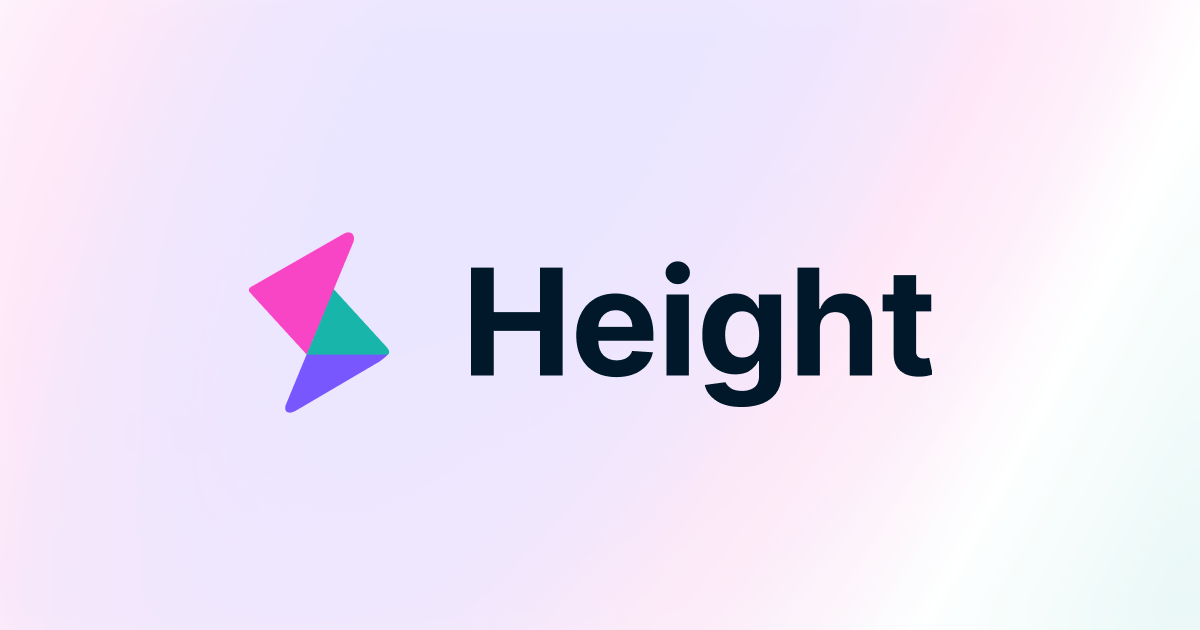 Height is a brand new tool in an invite only stage. It markets itself as a project management tool for software teams, but I think that's selling itself short. Height could be applied to any project management, since it is flexible in the workflows it offers. Height reminds me of Asana in a lot of ways, but it goes further in potentially useful ways. One, you can group your tasks by any attribute or even multiple attributes in a way that is most useful for the project at hand. For example, you can group the task list by person, by priority, by due date, by status, by milestone or by any custom attribute you add. You can even group by multiple attributes, for example grouping a marketing campaign project by channel and then by status. Another great feature is that you can put the same task into multiple lists. This is a very powerful idea, because you can keep track of some task in different contexts. For example, a product feature task could appear in the roadmap list, the marketing comms list and the current work cycle list at the same time, making it easy for different stakeholders to track progress in the right context. Height has a lot more to offer, so make sure to join their early access list.
Teuxdeux 🍒
Teuxdeux is a different and an opinionated take on personal task management. I believe that specific workflows can make tools like this very effective. If the workflow doesn't fit your style, that's ok, it's not meant to be for everyone. But if the workflow fits your needs - using such a tool becomes effortless. Teuxdeux structures your tasks around the days of the week. You see what needs to be done today and you get the context for what's coming up in the rest of the week. All the things you've not managed to get done today, get automatically pushed to the next day. And that's it. So simple, but can be so effective. As Teuxdeux said themselves – "Simple enough to compete with a piece of paper."
---
I hope you've enjoyed reading this week's issue as much as I've enjoyed writing it. Let me know if you've successfully switched to one of the above tools @HumaansHQ.
---
‌‌
Simplify your people operations with Humaans‌
‌Everything modern HR teams need to onboard, manage and grow their people. Try it free today – create an account in minutes.
Get the next post in your inbox – subscribe now