Meet Humaans, the foundation of your People tech stack
Deep integrations, workflow automation, best in class employee experience. Say goodbye to spreadsheets and clunky systems. It's time for a whole new HRIS.

"Humaans was conceived to address the pain points of business leaders tired of dealing with clunky systems unable to meet the high standards of today's employees."
Seven HR Tech Startups Transforming A Very Human Industry
Alison Coleman, Forbes
People Ops automated
Leave the repetitive tasks to us so you can focus on the most important part - people.
One source of truth for people data
→
Your company names and faces at a glance. Stay informed with the employee directory, upcoming events, anniversaries, birthdays and the who's away view. Who's leaving next week? Who's joining this month? Are any visas expiring soon? Don't chase – let Humaans tell you at the right time.
Reporting and gender pay gap analysis
→
Follow company growth and track key metrics. View headcount changes over time and by department. Monitor tenure and salary spend. Paid time off and sick day trends. Working from home trends. Dive into any gender pay disparities.
Set up people processes in the fastest possible way. Enable teams, managers and employees to work collaboratively, leverage centralised people data and feed it into any new and existing workflows. Use predefined workflow templates or create your own.
Flexible time off management
→
Whether people are WFH, feeling under the weather or are on holiday in an exotic corner of the world, get a holistic view to plan ahead. Flexible policies, company wide view of who's away, remote and distributed team friendly – 300+ national calendars supported. Integrates with Slack and Calendar.
Manage your data at scale
→
Access all your people data in a central, powerful and familiar spreadsheet view. Browse, filter, report, manipulate and bulk edit your datasets at scale with data tables. Streamline the onboarding of new employees, make quick changes to teams and organizational structures in a few clicks.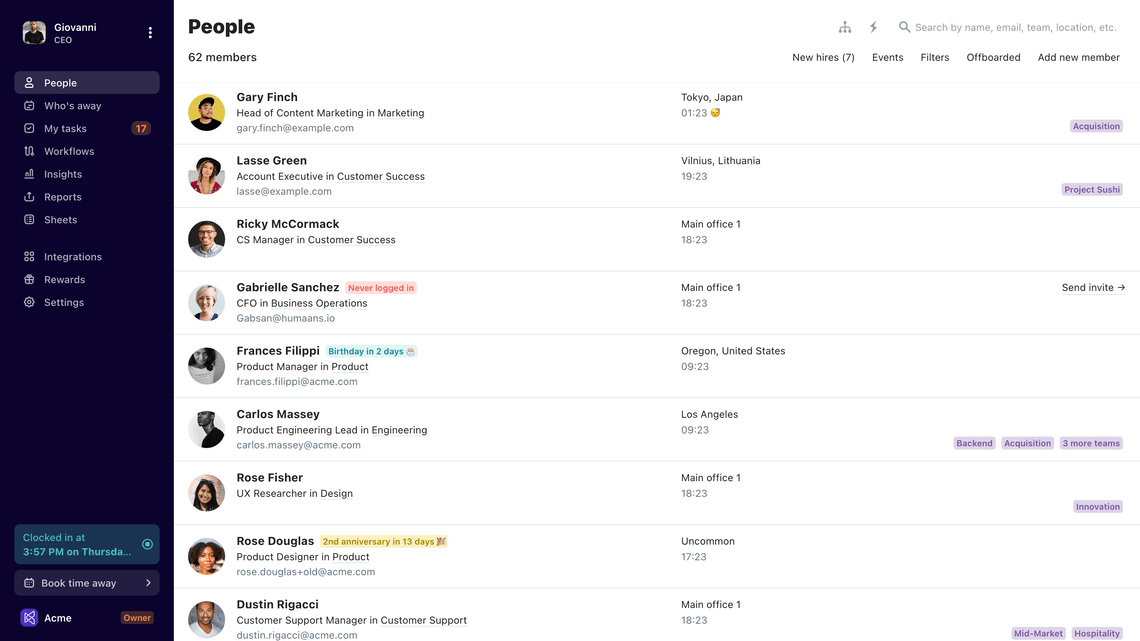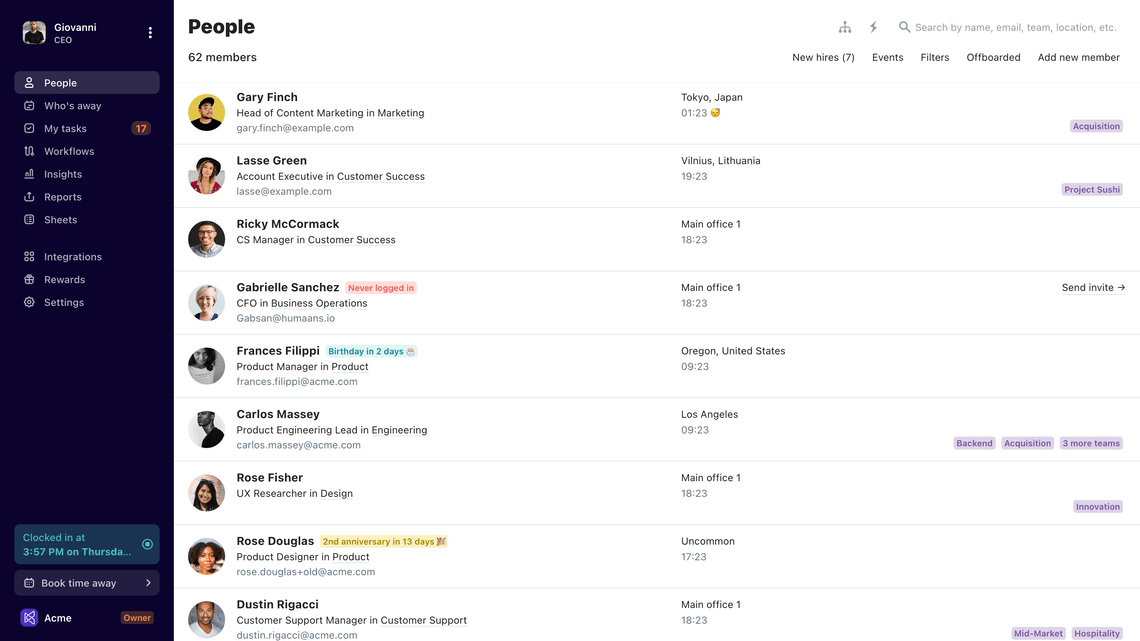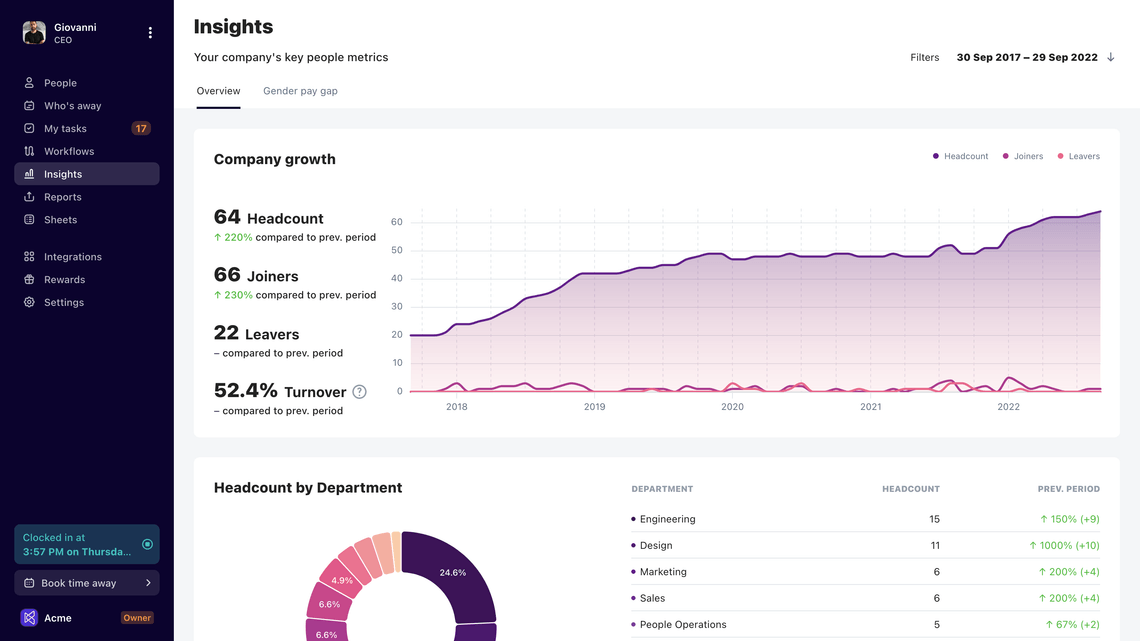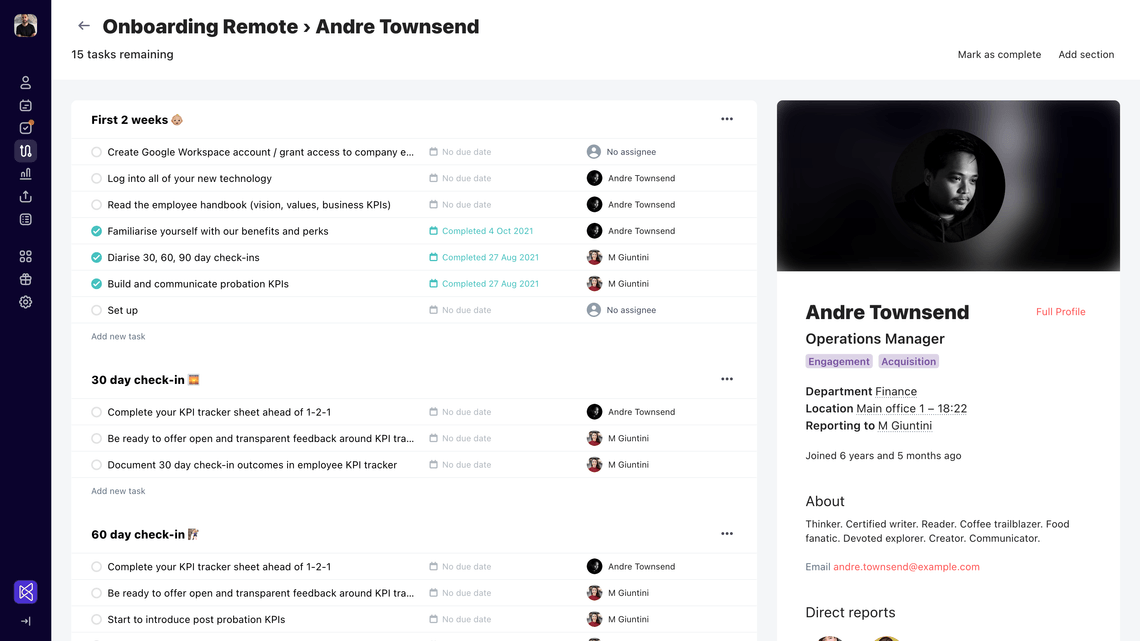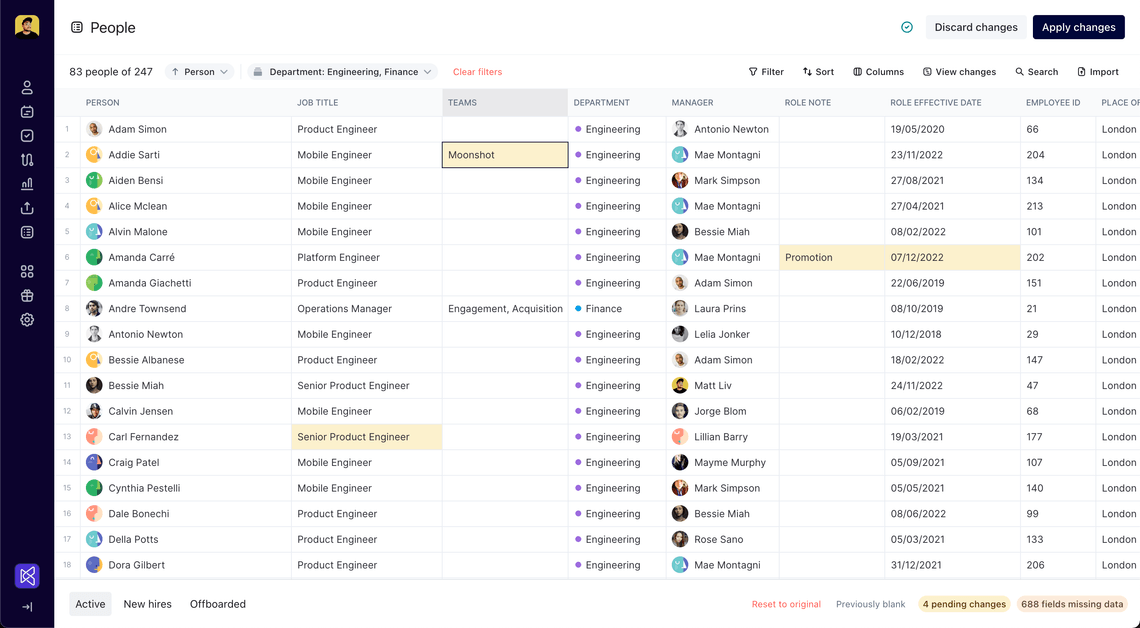 One platform to streamline your work
Bring your teams together providing everything that's needed to collaborate, coordinate work, and increase compliance – even before day one.